About us
Donostia Kultura-nowadays Public Business Entity- was created in 1990 by the San Sebastian City Council with the aim of placing Culture among the priorities for the development and projection of the city. Donostia Kultura manages several equipments and municipal services, as well as programming in all the cultural disciplines, organising festivals and, above all, promoting new cultural platforms in the city and bringing together public and private initiatives.
Statutes
Activity Reports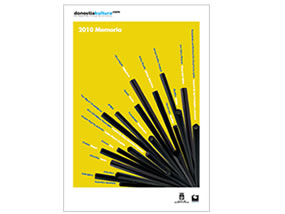 Donostia Kultura´s anual activity report

Human Resources
Our main function is the organisation of cultural and festive activities, the achievement of quality programming, as well as the offer of a wide range of cultural services. Donostia Kultura brings together and drives synergies among the task force that comprise it. There are a total of 180 people working in areas such as: Theatre and Dance, Cultural Centres, Art and Exhibitions, Audiovisuals, Festivities, Music, Library Services and Literature...In addition to two transversal units in charge of both Management and Human Resources and Communication and comprehensive Image of the entity.
Managers
Jon Insausti. Delegate for Culture and Basque Language
Management Team
Administrative Council Representatives: Eneko Goia, Miren Azkarate, Juan Ramón Viles, Jon Insausti (EAJ); María Luisa García, Arkaitz Millán (PSE-EE); Amaia Almirall, Naiara Sampedro (EH Bildu); José Luis Arrúe (PP); Loïc Alejandro (Irabazi Donostia).
Equipments
With the aim of providing universal access and disseminating culture in an extensive manner around the city, Donostia Kultura manages 18 centres that go from emblematic infrastructures such as the San Telmo Museum and the Victoria Eugenia Theatre, to neighbourhood centres and libraries, whose attraction area normally goes beyond the neighbourhood where they are located.