St. Thomas Feast Day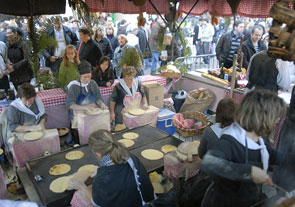 St. Thomas Feast Day takes place on 21st of December. This day San Sebastian is transformed into a rural market where the undisputed leaders are the txistorra (sausage) and the talo (flat corn bread). The celebration is centred on the Constitución Square, where the stalls are set up to serve traditional local products: cider, txistorra, talo, cod, cheeses...
The festival goes back to the days when many baserritarras (tenant farmers) used to come to San Sebastian each year at this time to pay rent to their landlords. Often, they would take the opportunity to buy items they couldn't find in the small stores in their neighbouring villages and also to sell their products.
Olentzero
Olentzero is a coal maker that every year comes to San Sebastian on the 24th of December in order to handle out gifts to all boys and girls. In order to make sure that everyone gets to see him and express their wishes, he goes around the streets of the city and receives every child that wants to see him.
Three King's Parade
The Three Magic Kings from the East arrive every year to San Sebastian the 5th of January laden with gifts for all the children. Even though each year their route is different, they always try to stay until late night so that everyone gets to see them.