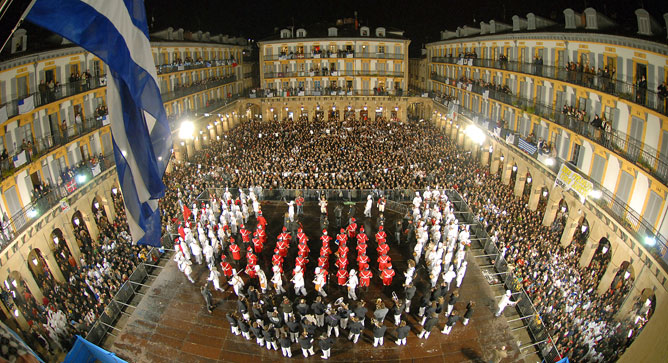 January 20
No one knows the true origins of this festivity. Some claim that it all started when some maids and their companions and soldiers waited for their water barrels to be filled at the fountain near the Church of San Vicente. However, others insist that this festivity has roots dating back to 1836 and that it was originally one of the Carnival troupes.
This festivity has grown over the years, due to the increasing number of drumming parades that participate in it. In 1957, there were 10 parades, in 1967, this number increased to 54 and in 2012, 118 drumming parades took part in the festivity.
During the 24 hours of St. Sebastian's Feast Day, the entire city is transformed with the rolling of drums and barrels and sound of the music of the composer Raimundo Sarriegui. This day is practically impossible not to see a drumming parade, since we can listen the beating of the drums across the entire city and at all times of the day. The hoisting and lowering of the city flag in the Constitución Square are two of the most emotional moments of the day.
The hoisting of the flag
The hoisting of the city flag announces the start of the festivity, with the singing of the traditional Marcha de San Sebastián. The hoisting takes place the 20th of January at 00:00am in the Constitución Square. The melodies are performed by the members of the Gaztelubide gastronomic society and by the representatives from different societies that are willing to participate.
The lowering of the flag
At 24:00pm of the 20th January the members of the gastronomic society Unión Artesana lower the city flag to bring the festivity to a close.
The Children's drumming parade
On the morning of the 20th January, San Sebastian is invaded by the Children's Drum Parade, comprised of more than 5000 boys and girls who are willing to provide an incomparable and emotive spectacle.
Listen to St. Sebastian's Feast Day songs composed by Raimundo Sarriegui